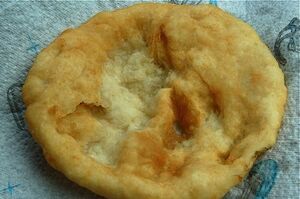 Ingredients
Edit
Directions
Edit
Heat the oil in a large pot.
Mix the flour, baking powder, and salt together into a bowl.
Mix then add the shortening.
Add some water and continue adding as much as needed until mixture becomes a firm dough.
Cover and sit aside for 5 minutes.
Take medium sized pieces of dough and form into pattie shapes about ¼ inch thick.
Fry them in the oil for ⅔ minutes until golden brown.
Drain.
Eat it plain or sprinkle white sugar powder or top with some honey and serve while still nice and hot.
Note: Panamanians typically eat them with hot dogs, which they call "salchichas" and a lot of ketchup. They are also AMAZING with Nutella and Peanut Butter (if available). They are also now called "Fried Bread", they are called Hojaldres.
Ad blocker interference detected!
Wikia is a free-to-use site that makes money from advertising. We have a modified experience for viewers using ad blockers

Wikia is not accessible if you've made further modifications. Remove the custom ad blocker rule(s) and the page will load as expected.